It's August and it's hot AF out there. The last thing you want to do this month is turn on your oven but if you're a sweets-lover like me, there is no escaping your need for dessert. It doesn't matter that it's a bajillion degrees outside, you are craving a chocolate cake like it's the end of the world & aint nothin' stopping you from getting your fix.
Girl, I get you.
It's probably why I've wiped out two Dairy Queen ice cream cakes recently. Because hey. I am super lazy when it comes to food. The less prep and less work necessary to make something delicious, the more inclined I will be to try something new. 
I have listed my top 5 no-bake desserts that take minimal effort but have huge payoff (by that I mean, they are
freaking delicious).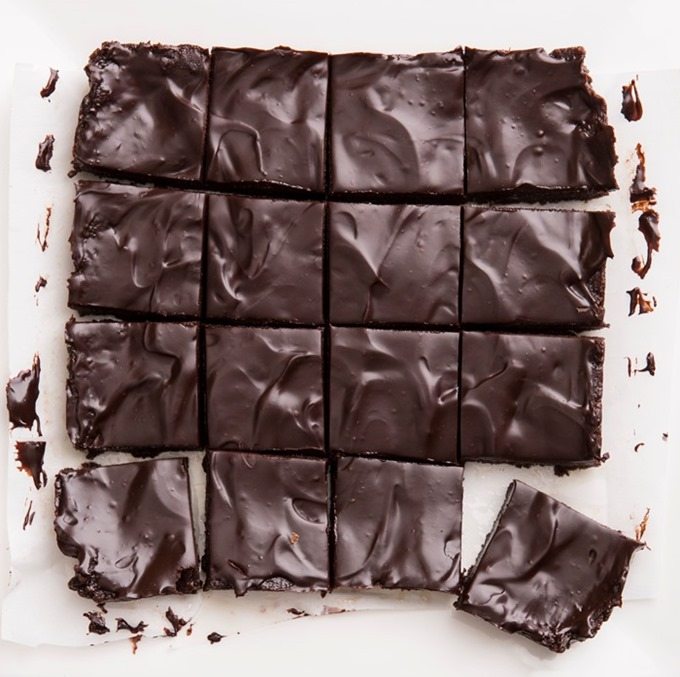 I LOVE BROWNIES SO MUCH. Caps necessary. Ooey-gooey, chocolately, fudgey, amazing brownies. But don't try to pass me one of those cake-based brownies. Ick. That's not brownies! Brownies must be super dense and melt-in-your-mouth. Cake-based brownies do not have those characteristics and I don't believe they should even be labelled as brownies. I digress. 
So here I share with you an amazing recipe from www.chocolatecoveredkatie.com. I love you, Chocolate Covered Katie, and thank you from the bottom of my heart for sharing this recipe.
Please don't be put off by the fact that the brownie base is made of dates. I can assure you these date-brownies are 100 times better than any cake brownie. Try them yourself! Even your neighbours will be impressed. Mine were.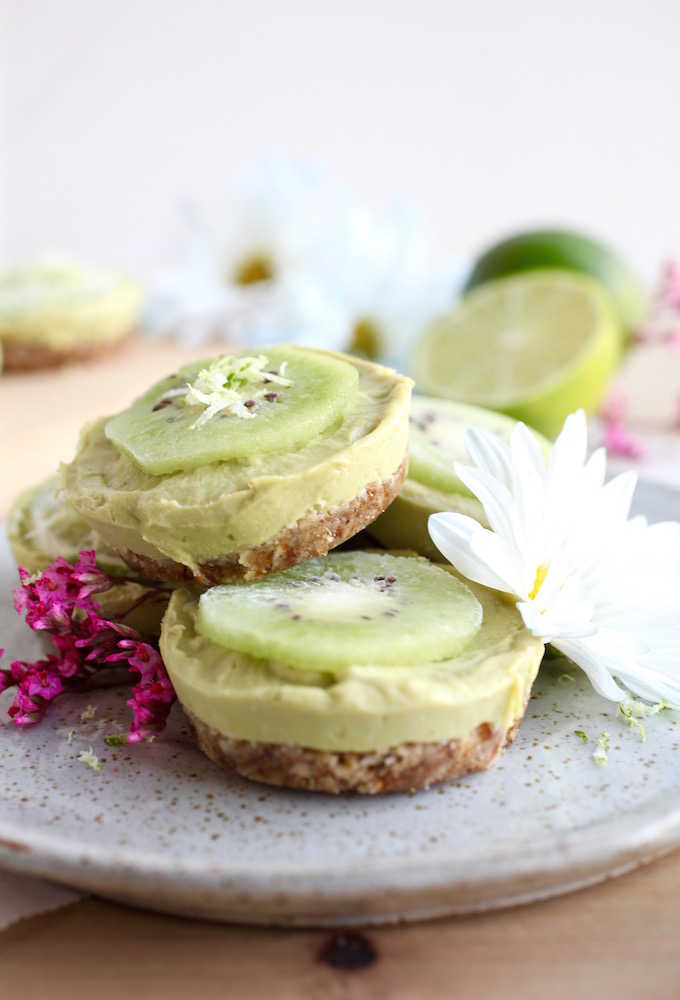 I first tried this recipe from www.nutritioninthekitch.com because obviously the pictures looked amazing. The tarts are super green and the addition of the kiwi on top made them look super tropical and oh so yummy. Perfect for summer backyard barbecues or when it's just hot outside and you're sitting in the kiddy-pool with a glass of wine craving something sweet. No? Just me?
The recipe is super basic and you probably have everything kicking around to make these right now – except cashews. I don't know anyone who has half a cup of raw cashews just sitting around. But if you're a little nutty, then go for it!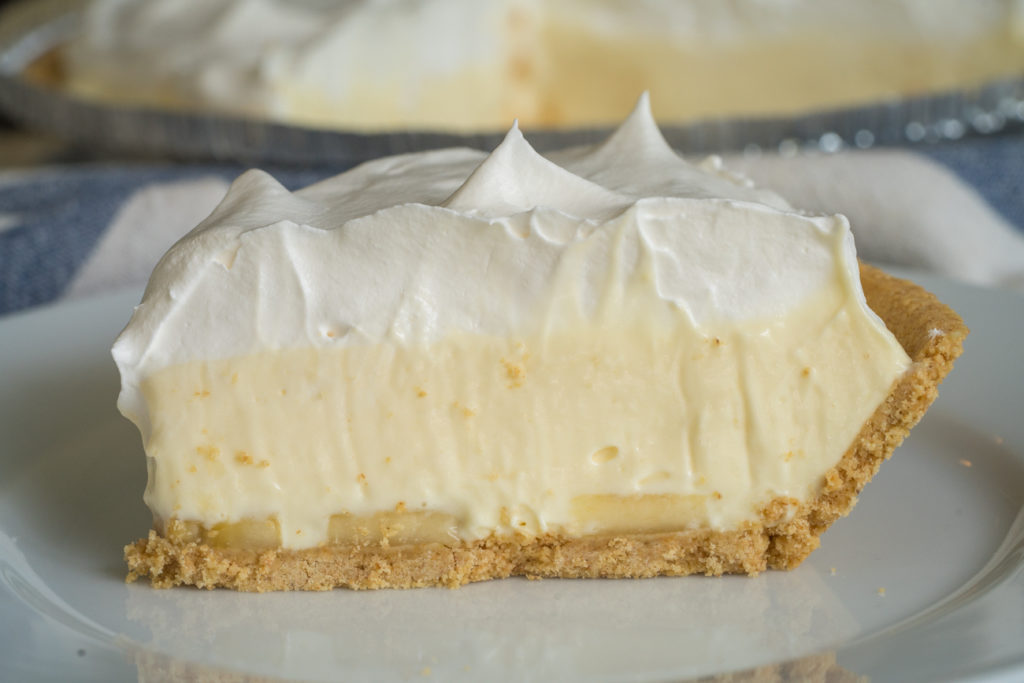 This recipe from www.12tomatoes.com is amazing, quick, easy, and has minimal ingredients. I actually set my banana cream pie in the freezer so that I didn't have to wait so impatiently for a few hours to let it set… and the results were even better. Turns out frozen banana cream pie tastes even better than regular banana cream pie! This is definitely not a dessert you want to keep sitting around on the counter – although I'm sure it wouldn't even last long on the counter anyway once you taste it! I could probably eat this entire pie to myself before it got to room temperature.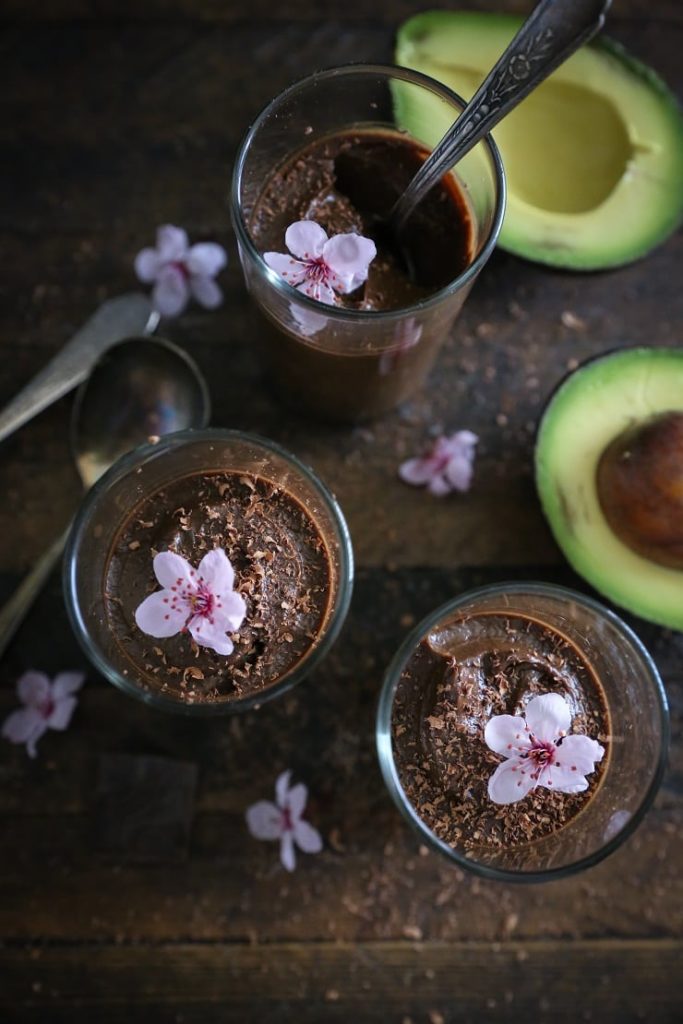 This magical little recipe is a game changer. 
I first thought this was going to be disgusting and who makes chocolate pudding with avocados. But I just had to try it for myself and see.I have since tried several chocolate avocado pudding/mousse recipes and I continually fall back on this one. It is perfect. I like to make double batches and then store servings in little individual glass mason jars (because it's cute of course, but also to try and discourage myself from eating the entire double batch in one sitting). 
I'm told that this recipe has sort of a "dark" chocolate taste – so heads up here. If you're not into dark chocolate, you may need to alter this recipe a little bit. I think the best way to do this is make the recipe as is in the food processor, and when it's done, taste it. Adjust before you refrigerate. I also love how you can add toppings to this mousse and the result is divine perfection. Enjoy.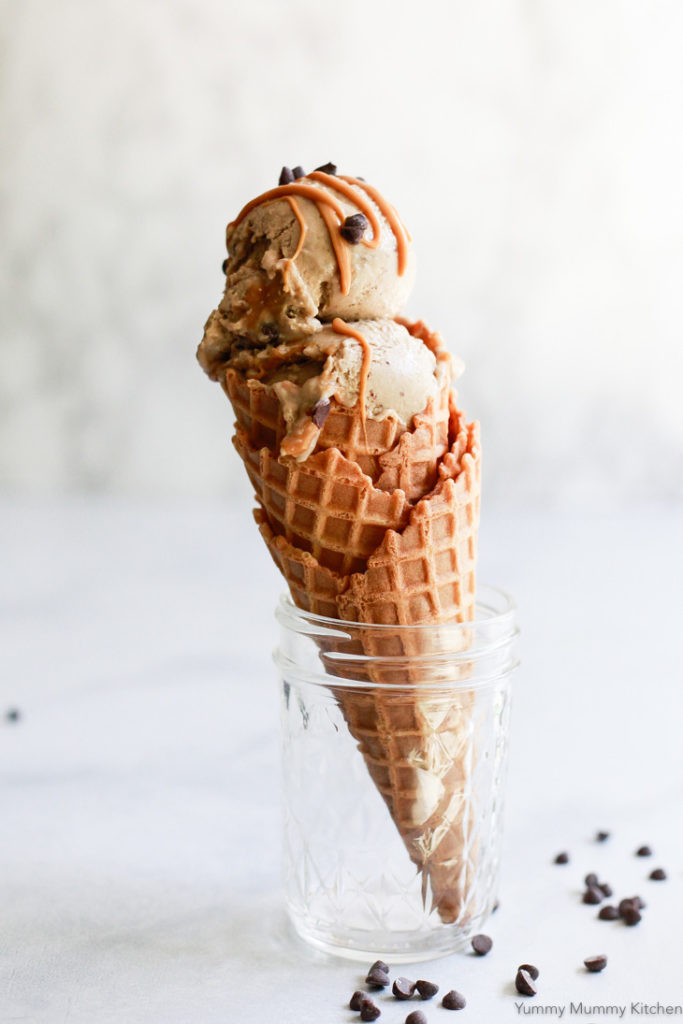 Do you too buy bananas constantly only to have your toddler decide she wants one quarter of one banana per bunch but demand we get them at the store? We have a lot of half-eaten frozen bananas kicking around my freezer.  And let me tell you. I also get sick of making banana bread that nobody but me eats. 
So this recipe is amazing for two reasons. Actually, three: 
homemade ice cream, duh

it uses your freaking bananas! 

it stops you from spending so much money at Dairy Queen!
I had never tried to make ice cream (or "nice" cream, as its called), prior to discovering this recipe. I was a skeptic. But it has all of my favourite things in LIFE combined (except maybe my kids). Bananas, chocolate, peanut butter, maple syrup. Come on. I really didn't think these menial ingredients could produce such an amazing concoction when blended together in my food processor. I scooped the whole thing into a bowl and then sat on my front porch with my girls and we ate the whole thing. And I would gladly do it again. Go try this!
There you have it my friends. Don't let a little thing like a heat wave keep you from enjoying your life – who needs an oven anyway? No bake desserts for the win.