November is here and Christmas is right around the corner. In November there will be Remembrance Day events and we'll begin to see Christmas-themed events. As always, enjoy!
Abbotsford November Events
Cascadia Remembers: Sacrifice for Freedom
Cascadia Wind Ensemble's first concert of the 22/23 season is our highly anticipated annual Remembrance concert. "Cascadia Remembers: Sacrifice for Freedom" is a musical tribute to our veterans, including our popular Sunset / Remembrance ceremony and featuring traditional and contemporary musical selections, interspersed with presentations of poems by Spoken Word Artist Shelley Picard.
Tickets are available at the door, at King's Music and at cascadia-freedom.eventbrite.ca
DATED and TIME: Sun, Nov 6 2022, 3 – 5 pm
VENUE: Matsqui Centennial Auditorium
See WEBSITE
Abbotsford Remembrance Day Ceremony
Join us at Thunderbird Memorial Square on Friday, November 11, 2022, as we come together to pay tribute to, honour and remember the sacrifices and contributions of those who have proudly and courageously served our country in war, conflict, and in peacekeeping.
DATE AND TIME: Fri, Nov 11 2022, 10:30 – 11 am
VENUE: Thunderbird Memorial Square – 32388 Veterans Way, Abbotsford, BC V2T 0B3
Toys 4 Tots Christmas Breakfast
You're invited to one of Abbotsford's Christmas traditions! Join us in celebrating the 10th Annual Toys for Tots Christmas Breakfast. This spirited event is hosted by the Clarion Hotel & Conference Centre; benefiting the Abbotsford Christmas Bureau. This is a fun and festive event that works around your busy Christmas schedule.
DATE AND TIME: Sun, Nov 27 2022, 11 am – 2 pm
VENUE: Clarion Hotel & Conference Centre, 36035 North Parallel Road
Langley November Events
World Under-17 Hockey Challenge
From November 3rd to 12th, Hockey's Best are coming to Langley and Delta for the World Under-17 Hockey Challenge. Twenty-three action-packed games will be played at the Langley Events Centre and Sungod Arena. Single-game tickets and multi-game tickets are available for the World Under-17 Challenge. Tickets start as low as $15 and are available online See WEBSITE
Glamorama – Charity Shopping Night
Kick off your holiday shopping with their 7th Annual (and practically FAMOUS) Charity Shopping Night – Holiday Glamorama.
This year's event includes:
– Wine tasting from 20+ wineries with $0.25 tastings
– Exclusive promotions from your favourite retailers
– $20K + in dazzling, curated prizes
– Delish appetizers and hors d'oeuvres
– Highlighted holiday fashion
– A visit from the big man in red
– & so much more!
DATE: November 19, 2022
TIME: 7:00 pm to 10:00 pm
VENUE: Willowbrook Shopping Centre, Fraser Highway, Langley, BC, Canada
See WEBSITE
Christmas Glow Langley
Canada's Largest Christmas Event Returns Bigger Than Ever.
Experience the Magic of Over a Million Lights as Glow Langley Brings the Holiday Season to Life
What has become the most anticipated holiday event of the season is returning bigger and brighter on 20 acres as Glow Langley launches on November 23rd. Early bird tickets are on sale, offering a 40% discount.
Guests will experience a family-friendly outdoor Christmas festival with towering light gardens and magical landscapes all under the magic of more than a million lights. Attractions include a kids scavenger hunt, food trucks, a holiday train ride, pictures with Santa, a meet and greet with princesses and a warmed tent space with live performances and delicious holiday beverages.
Guests will wander through a sea of giant ornaments, magical trees and cascading lights while kids also enjoy the variety of attractions designed just for them, including a holiday-themed kids' playground.
DATE: November 23 – December 30, 2022
TIME: 5:00 pm to 10:00 pm
VENUE: 6690 216 Street, Langley, BC, Canada
See WEBSITE
Photo @glowlangley
The Paperboys Trio
Bez welcomes The Paperboys (trio) to the up close and personal listening room vibe in Langley, BC. Celebrating their 25th anniversary year, Vancouver Canadian musician Tom Landa is looking back on the legacy of his much-loved folk rock band The Paperboys. For a quarter century, The Paperboys have been touring the world and lighting up stages with their freewheeling blend of influences from Celtic and bluegrass, to Mexican son jarocho, brass bands, and Canadian roots. They have been called everything from Cajun slamgrass to worldbeat, they've received a Juno award (Canadian Grammy), plus two Juno nominations, two West Coast Music Awards, released nine albums, and now we're so pleased to have them make their Bez debut.
DATE: November 18, 2022
TIME: 8:00 pm to 9:00 pm
VENUE: Bez Arts Hub, 64 Avenue, Langley, BC, Canada
See WEBSITE
Surrey November Events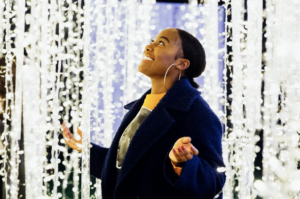 Bear Creek Lights
Pre-book your tickets for the 10th annual Bear Creek Lights.
Stroll the 1km illuminated walking loop at your own pace with friends and family.
Dates: November 4 to November 18, 2022 (closed Remembrance Day on November 11)
Hours: 4:30 – 9:30 pm. Entry times are available every 30 minutes
Cost: Free. Tickets are required for entry.
See https://bearcreektickets.surrey.ca/products/general-admission-experience
Vancouver International South Asian Film Festival Red Carpet Gala
Don't miss the opening night of the biggest South Asian Film Festival in Canada.
VISAFF, the biggest South Asian Film Festival in Canada, is a forward-thinking storytelling festival and we have been supporting work that goes beyond the Bollywood screen for many years. Year after year, the Festival pursues new ways to support artists and introduce more people to original, authentic South Asian storytelling
The theme for this year is Unity in Diversity. This year we will focus on the importance of unity in a diverse world through innovative and inclusive programming and participation.
Date & Time – November 10, 2022, 6:00 pm – 9:00 pm
Address – Surrey City Hall, 13450–104 Avenue
Tickets & Pricing – $125
See – https://visaff.ca/
Remembrance Day Ceremonies
Join your community for Remembrance Day ceremonies happening across Surrey.
On November 11, several events will be taking place across Surrey in honour of Remembrance Day.
Arrive early to find parking, or consider walking, biking, or taking transit. Events will take place rain or shine. View scheduled road closures.
Date & Time – November 11, 2022 10:30am – 12:00pm
Tickets & Pricing – Free
Join your community for Remembrance Day ceremonies happening at the following locations:
Centre Cemetery, 16671 Old McLellan Road, City of Surrey, Cemetery Services
Veterans Square, 17710 – 56A Avenue, Royal Canadian Legion, Cloverdale Branch #6
Whalley Legion, 13633 Grosvenor Rd., Royal Canadian Legion, Whalley Branch #229
 Photos – Please email rod@impactinl.net for credit or removal. No copyright infringement intended.