White Rock, BC
White Rock is a city in British Columbia Canada. It borders Semiahmoo Bay and is surrounded on three sides by South Surrey.
White Rock is named for a large white erratic glacial boulder that sits on White Rock Beach not far from White Rock Pier. It is kept white by regular applications of white paint supplied by the parks department.[1]
Historically the area was dominated by The Straights Salish people who were known to have permanent encampments up 1791. The Semiahmoo First Nation has land and still borders White Rock to the southeast along Semiahmoo Bay.  See the FV Lifestyle article A Pictorial History of White Rock, BC [1]
White Rock is also one of the sunniest places in Metro Vancouver because of the distance from the Coastal Mountains. Often as you drive south from Vancouver when it's cloudy or raining you will eventually drive into clear sunny skies in White Rock. White Rock also has 8 kilometers of beach and is known for the 2.5-kilometer promenade and the famous pier. Along the promenade are trendy shops and restaurants.
City of White Rock website – CLICK HERE
Map of White Rock, BC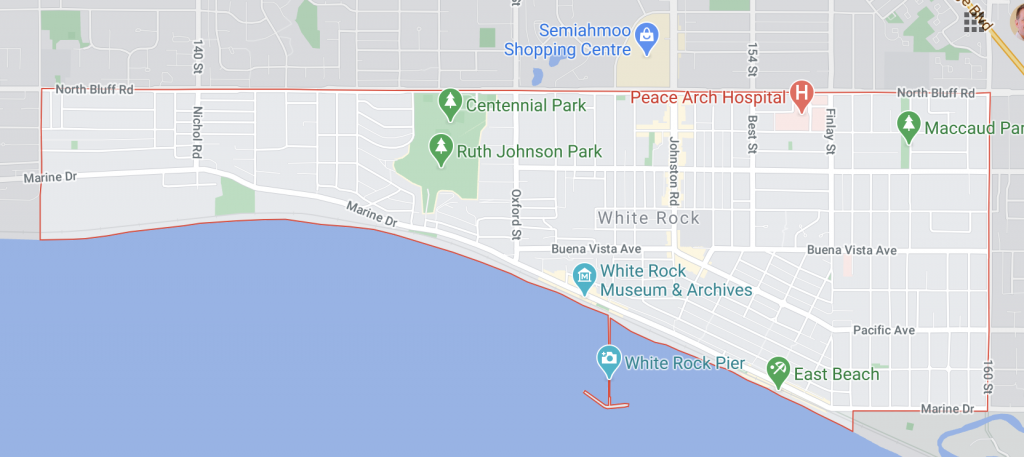 Recreation
As a seaside community with a number of green spaces, White Rock has some lovely places to walk, kayak, swim, sail, and canoe. Centennial Park is White Rock's main park and has an ice rink, playing fields, lacrosse box, and tennis courts.
Schools
There are two elementary schools in White Rock; White Rock Elementary and Peach Arch Elementary. Teens from White Rock can attend Semiahmoo Secondary, Earl Marriott Secondary, or Elgin Park Secondary which are located in the neighboring South Surrey.
Real Estate
White Rock has some spectacular homes that have a beautiful ocean view. With its beautiful ocean views, White Rock's real estate prices tend to be on the high side, but there are some spectacular homes and condos in the area.
THINKING OF BUYING OR SELLING THIS YEAR? GIVE ME A CALL, AND I'LL HELP YOU GET STARTED ON YOUR JOURNEY!
Take care,
Mike Wilson
Remax Treeland
604-533-3491
mike@fvlifestyle.com
Oh, by the way…if you know of someone who would appreciate the level of service I provide, please call me with their name and contact information. I'll be happy to follow up and take great care of them in a way that is healthy and safe.
1 https://en.wikipedia.org/wiki/White_Rock,_British_Columbia