The extensive flooding and flood damage in BC and the Fraser Valley has created many needs for both humans and animals, but there are ways to help. Some charitable groups and agencies have already taken action by providing services and collecting donations of blankets, money, and food.
The City of Abbotsford lists these donation locations:
Archway Community Services: Archway is accepting donations of food only. Visit Archway.ca/Flood to find out what the most needed items are.
MCC Clothing Etc. located at 31872 South Fraser Way
MCC is accepting donations for the flooding evacuees. Please NO large appliances or furniture due to their location and space.
Monday – Friday 9-4
Saturdays – 9-12
604-854-4174
MCC – Thrift located at 33933 Gladys Avenue
MCC Thrift is accepting donations for the flooding evacuees.
Tuesday – Saturday 9:30-2
bcthrift@mccbc.ca
MCC will be giving all evacuee's a gift voucher of $25.00 for them to come in and spend at either of their thrift store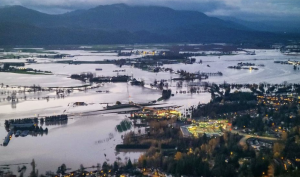 The City of Abbotsford lists these agencies as places to make financial donations:
Provincial emergency assistance
If you have been impacted by the storm may be eligible for assistance through the BC Government.
Help for animals
If you have been listening to the news, you will have heard that animals have been hard hit by the flood too. There are a number of local agencies offering to help with shelter and food.
The BC SPCA is offering shelter for animals. On Twitter, they say… #ALERT: Many communities across BC are experiencing extreme rain which may be forcing some families from their homes. If you or someone you know is in need of emergency boarding for their animals during this time, please contact our Call Centre at 1-855-622-7722 #BCSPCA #bc
There are a number of other agencies helping with animals as well. See their websites for more information:
Vancouver Humane Society
Aide for Paws & Rescue Society
Langley Animal Protection Society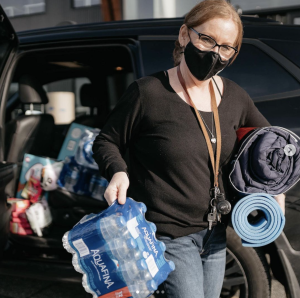 CLA Church Transporting Items to Hope Via Helicopter
Many local churches are helping out. CLA Church in Abbotsford is literally going above and beyond. They say… "As we continue to work together with @skyhelicopters, transporting items of need to Hope, we are now asking for donations of NEW blankets. This is a big need right now. See Instagram https://www.instagram.com/clachurch/ @clachurch
Evacuation Orders and Alerts
To keep up on the latest evacuation orders and alerts for areas impacted by the flood see https://www.abbotsford.ca/alerts/evacuation-order-and-alerts-issued-localized-areas
FOOTNOTES
Source – DH NEWS
Source – The City of Abbotsford
Photo Credit – @delightfilledart
Photo Credit CLA – @clachurch
All photos – Please contact us for credit or removal rod@impactintl.net