Our publisher Mike Wilson was at the White Rock Market recently and was impressed by the Whisky he tasted from a local Fraser Valley distillery, Mainland Whisky (see more below). That got us wondering about other local distilleries and we discovered that the Fraser Valley is a host to a number of older and newer distilleries that sell a variety of high-quality Spirits including…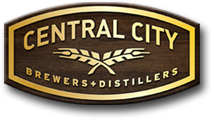 Central City Brewers and Distillers have been around for a number of years and are quite well known for their Red Racer Craft Beer, but did you know that they also make Lohin McKinnon Whisky, Sparrow Premium Rum, and Queensborough Japanese Style Gin? Link: Central City https://centralcitybrewing.com/visit-us/distillery

Crows Nest Distillery in Abbotsford makes Vodka, Rum, and Spiced Rum. The Crows Nest Distillery was started by Stefano Paolone way back in the early 1900s. He brought his winemaking and spirits making skills with him from the old country. Fast forward to today and Daniel Paolone and his friend Ian Jarvis are rekindling the family tradition and combining years of family knowledge to make a variety of spirits using local ingredients found in British Columbia.1 Link: Crows Nest Distillery in Abbotsford https://www.crowsnestdistillery.com/index.html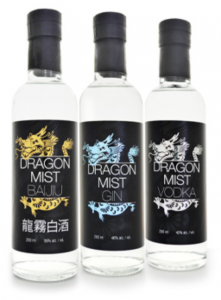 Dragon Mist Distillery is in Surrey and they make vodka gin and a number of different liqueurs. They say, "We are proud to distill some of the finest quality spirits made in British Columbia. We follow the craft distillers' code of conduct when creating all our products. Whether it's our flagship Baijiu Vodka or Gin or any of our delicious liqueurs we're confident you'll find something to delight your palate." 2 Link: Dragon Mist Distillery https://dragonmistdistillery.com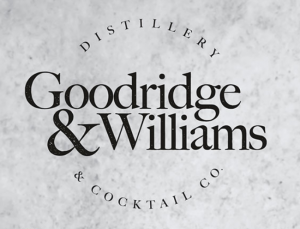 Goodridge and Williams Distillery and Cocktails Company is one of the craft spirits and crafted cocktail leaders in the industry in Canada. They make an array of interesting tasty spirits and drinks. Their brands include NUTRL Vodka, Tempo Gin, Goodridge and Williams Canadian Whisky, Sid The Handcrafted Vodka, Yes Guy Hard Iced Tea, and Still Maker Old Fashioned. Link:: Goodridge and Williams Distillery and Cocktails Co. https://gwdistilling.com

Lucid Spirits uses only BC-grown products to make their base alcohols. They do all of their fermentation and distillation on-site to create their ultra-premium products such as Vodka, Vodka Pina Colada, two types of Gin, and a variety of liqueurs, Rye, and a Spirit called Cinnamon Kiss. Link: Lucid Spirits https://lucidspirits.ca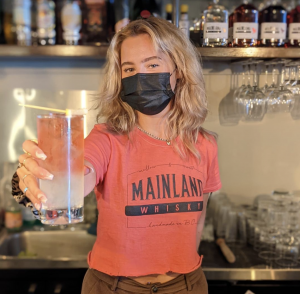 Mainland Whisky says their craft American-style Whiskey and Whiskey liqueurs are influenced by American Moonshine recipes. Their small-batch corn Whiskey and Whiskey liqueurs are made in a hybrid reflux still with organic ingredients in Surrey BC. There are no additives, they are non-chill filtered and they are a craft distillery.
If you want to stop by and have a tasting, you can! At the Mainland Whiskey Cocktail Lounge and Whiskey Shop. They take private bookings for their tasting lounge that has a 15-foot bar and 125-inch projector screen. They have a new cocktail list each month and small snacks are available. They are also open Wednesday to Sunday during the afternoon and evening. Call them at 604-372-4424 for more information or see their website. 3 Link: Mainland Whisky https://mainlandwhisky.com Photo: @mainlandwhisky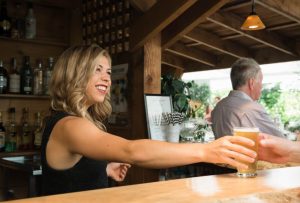 New Wave Distilling is in the heart of the Fraser Valley tucked into a garden oasis. At their tasting room in Abbotsford BC, they offer cocktails, beer, and wine by the glass and wine and spirit tasting flights. They also have charcuterie and bistro snacks, a heated patio, and a grassy picnic area. They say, "our product line is inspired by our love for the Fraser Valley and the surrounding mountains." They are a locally owned and operated family business. Many of their spirits are made from organic blueberries grown and picked on their family farm. Link: New Wave Distilling https://newwavedistilling.com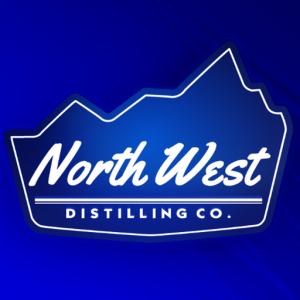 NorthWest Distilling Co. makes handcrafted Spirits made with British Columbia ingredients. They are owned and operated by "young people" from British Columbia. Their company focuses on a small-batch approach to distilling. They say, "by diligence on quality we aim to create products as beautiful as the scenery we make it in." they make Northwest Extra Smooth Vodka that is distilled 10 times before mixing it with "world-famous BC mountain freshwater". This Maple Ridge company has a lounge coming soon. 4 Link: NorthWest Distilling Co. https://www.northwestdistillingco.ca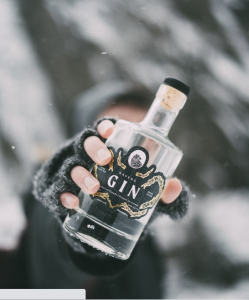 Ravens Distillery is a new venture from Ravens Brewing in Abbotsford BC. They say "after the success of our beer we thought we could contribute something fresh to the world of spirits. The first of which is our flagship Vodka." They also make Gin. If you want to try them out, you can visit their tasting room in Abbotsford. Link: Ravens Distilling https://ravensdistilling.com Photo: @ravensdistillery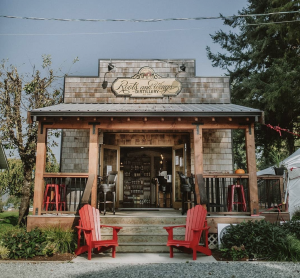 Roots and Wings Distillery makes artisan spirits. They are homegrown and handcrafted at their farm in Langley, British Columbia. You can also visit the distillery for tastings and craft cocktails. Roots and Wings Distillery is Langley's first craft distillery. They are located in Fort Langley and they welcome visitors to sample and purchase their fine spirits in their tasting room. You can also browse in their vintage bar gift shop. The products include Vodka, Whiskey, Gin, and Absinthe. Link: Roots and Wings Distillery https://www.rootsandwingsdistillery.ca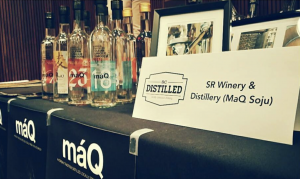 SR Winery and Distillery makes locally handcrafted rice wine and barley spirit in the Korean tradition. They are a small company founded by Master Distiller Yoo and his family who have been supplying restaurants throughout Metro Vancouver for over 10 years with unpasteurized Makgeolli (Korean cloudy rice wine). With changes in legislation in 2013, it became feasible for craft distilleries to start producing local spirits and master Yoo and his family started to produce better quality Soju (Korean spirit) with local ingredients. "The company's intention is to help people rediscover the original taste and tradition of High-quality Soju and Makgeolli." 5 Link: SR Winery and Distillery https://www.facebook.com/MAQsoju
Do you have a favorite Fraser Valley distillery? Let us know in the comments below or comment on our Instagram or Facebook page.
_ _ _ _ _
FOOTNOTES
1 Crows Nest Distillery in Abbotsford https://www.crowsnestdistillery.com/index.html
2 Dragon Mist Distillery https://dragonmistdistillery.com
3 Mainland Whisky https://mainlandwhisky.com 
4 North West Distilling Co. https://www.northwestdistillingco.ca
5 SR Winery and Distillery https://www.facebook.com/MAQsoju
Main Photo: @rawstillhouse
All rights reserved to the photographers and writers. Please email us for credit or removal if required.
Email rod@impactintl.net for inclusion in future articles.