As you know, Father's Day on June 20th is coming up fast, and you know what that means; it's that time of the year to commemorate the father figures in our lives. There's always something going on in the Fraser Valley, whether it's an event or a new restaurant opening up, and we're here to help you find what you're looking for this year. So let's get into it, shall we?
Quality Time
Before we dive into events, activities, and such, don't forget that nothing beats quality time. Take the family for a fun adventure, and just spend time with each other out and about. For a couple of cool adventure spots, check out one of our recent articles: Fraser Valley Events for June 2021
Events
Old Yale Brewing Co. – Chilliwack
And of course to start off our events, what would be better than $5 pints from Old Yale Brewing Co. They say, "In the heart of our Brewery is our Tasting Room, Patio & Campfire Kitchen, where you can always count on us for delicious food, great beer, and even better friends. Don't hesitate to swing on down and check out what they have to offer. READ MORE HERE
Langley Fresh Father's Day Box
Tourism Langley has put together a way to support local businesses while getting a gift the father figure in your life is sure to enjoy. Complete with cranberry pepper jelly, hot sauce, and turkey spice, and a few more food items (but you can check that out on their website), we all know at least one person who would love the thought behind this. READ MORE HERE
Township 7 – Langley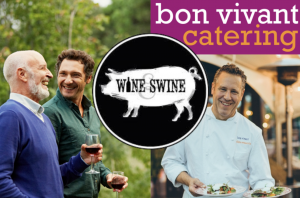 Township 7 has been holding special Father's Day celebrations for years and 2021 is no exception. This year on June 20th they are holding their 7th Annual Wine and Swine event. They say: "This Father's Day, treat dad to our 7th annual Wine & Swine event with a fun and delicious afternoon of delectable barbecued dishes paired with our award-winning wines in our south Langley vineyard." We (Rod – editor) had friends attend this several years ago and they still rave about it. READ MORE HERE
Father's Day BBQ Dinner at The Estate at Glass House Winery – Abbotsford
It's good to see the Fraser Valley Winery's stepping up (healthy competition?) and planning events for Father's Day. Here's what the Glass House Estate Winery is offering this year: "Celebrate Father's Day with a BBQ Dinner at Glass House Estate Winery from 2:30pm to 7:30pm. Enjoy a special set menu for $69 + taxes per adult and live Music from 3pm to 7pm.
"Menu highlights include a choice of Beef Roast or Pork Chop or Cauliflower Steak and all mains include Southern Coleslaw, Chicken & Apple Salad, Mac N Cheese, Roasted Garlic Potatoes & Grilled Vegetables served family-style along with Chocolate Mudcake for dessert." READ MORE HERE
Activities
As we begin to emerge from the COVID-19 gathering restrictions there still isn't a lot of public gatherings taking place. Of course, that doesn't mean you shouldn't get out and enjoy the day with your loved one(s). Go fishing, go on a boat trip, camping on the weekend. There's really there's an endless amount of adventures to be had. Maybe you could have a picnic too – just an idea, but we'll save that for another article in the near future.
Have your own ideas for the perfect Father's Day? Let us know your event and activity ideas in the comments below!
Note: As of June 8, 2021 Provincial restrictions remain in place to help stop the spread of COVID-19. Some restrictions are made by the Provincial Health Officer (PHO) under the Public Health Act and others are made under the Emergency Program Act (EPA). Most orders can be enforced by police and compliance and enforcement officials. Please check to see what the COVID-19 guidelines are before attending any of the events listed above.
Credits:
Written by Josh Loewen
Main photo – Photo by Daiga Ellaby on Unsplash
Photo: Old Yale Brewing Company Co.
Photo: Township 7
Photo: Glass House Esate Winery