We are noticing a lot of discussion on Social Media about ordering dinner in for Christmas. Is this something you are considering? The comments we are seeing include how difficult it is going to be to get together this holiday, but we can still support local business.
If you are considering a catered meal for Christmas, here are some Fraser Valley catering companies to consider:*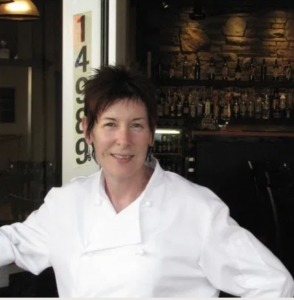 Jan's on the Beach Restaurant and Catering
At Jan's you can call in at 604 531-5444 or order takeout. Jan's takeout menu can be found here:
Takeout Menu
From Jan's website: At Jan's "We're 'Seafood and more' with a great selection of dishes, all made in house from scratch. Many of our dishes are Gluten Free, including our Calamari, Fish and Chips, and others as well!"
For catering see: https://jansonthebeach.ca/catering/ or email jan@jansonthebeach.ca Jan's on the Beach offers a full catering service.
Laura's Coffee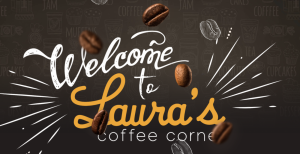 Laura's is one of Mike's favorite coffee shops and they cater. Plus, they have a great website!
According to Mike, they have a "friendly owner and staff. It's a great community hub," and he says, they have "really good food and amazing baked goods. Find out more here: Laura's Coffee Corner
Ritz Catering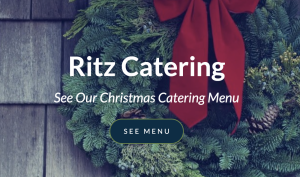 Ritz Catering has a catering menu just for Christmas. Their meals are individually packaged and delivered to your door. There are four categories to choose from. There is Cold Christmas Sandwich Boxed Lunch, Hot Christmas Sandwich Boxed Lunch, Traditional Hot Christmas Lunch or Dinner, and the Festive Hot Christmas Lunch or Dinner. The Festive Hot Christmas Lunch or Dinner has turkey with all the trimmings, honey baked ham, veggies, mashed potatoes, buns, and fresh-baked shortbread cookies. Mmmm. I love shortbread cookies.
Coast & Country Caterers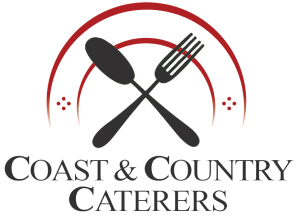 Coast and Country Caterers have been in business since 1997. They have an exclusive Christmas menu too. One of their menus includes roast turkey, gravy and cranberry sauce, honey glazed ham, vegetarian lasagna, honey glazed carrots and beans, mashed potatoes, salads, buns, assorted desserts, and coffee and tea. There are five different menus to choose from. See Coast and Country Caterers
Sheila's Craft Kitchen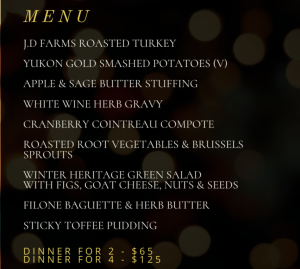 At Sheila's Craft Kitchen you can order a Holiday dinner to-go, or as they put it a "Chrismas Feast" and gift baskets and gift cards. See the photo to the right to see what's available on the dinner menu. Visit their website here Sheila's Craft Kitchen
Catering Visions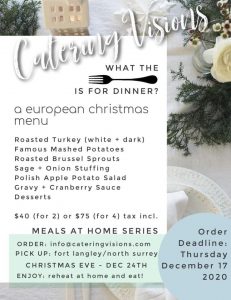 Caterings Visions says, "We are in a festive mood." To see what Catering Visions has to offer for a catered Christmas dinner, see the photo and click here: Catering Visions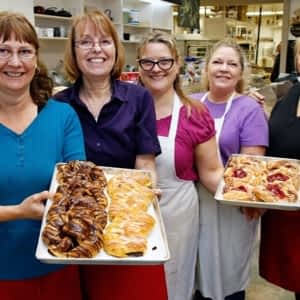 Hillcrest Bakery and Deli
At the time of writing this article, Hillcrest Bakery and Deli is sold out of Christmas Dinners! Oh well, we'll have to make a note for next year and get our order in early. To see what you missed click here: Hillcrest Bakery and Deli 
*Orders need to be placed by a certain date at some of the locations listed above, so don't wait. Order today!
Thanks to Deborah Janz and Shannon Perkins Dyck for the Fraser Valley catering company suggestions.
Main Photo by Jed Owen on Unsplash