Throughout this past summer Shelley Coburn, a Trustee at the Langley Board of Education partnered with local business owner Brenda-Lee Hunter from The Village Work and Play Space and organized The Village Market in Langley City. I had a visit with Shelley to get her perspective on how the market started and what it might look like in the future.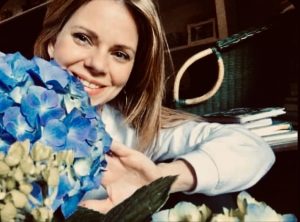 Shelley grew up in Langley City and describes the community as "a very caring community" and as I spoke with Shelley I got the sense that The Village Market is her way of caring for the community that she grew up in and now serves as a politician.
According to Shelley, The Village Market started in response to COVID-19. She saw it as a way of giving local vendors and farmers the opportunity to sell their products because so many events and markets that they would normally attend were canceled due to the pandemic. COVID-19 has made business difficult for local vendors and farmers. Shelley is moved by the appreciation participants in The Village Market have expressed.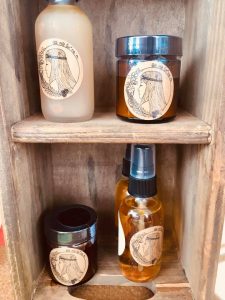 The market was held at 204th and Douglas Crescent in Langley City, BC and has had an interesting variety of vendors including; Koba Foods , The Saucery Fine Foods and Catering , Serenity Soaps, Coastal Glory, Forrestial Friends, Hurricane Foods, Pourhouse Collective, Blue Valley Farms, Sxwnem plant medicines, musician Bruce Andrews, and Nuez Acres
You might have noticed that The Village Market includes crafters who sometimes don't get to participate in local farmer's markets because the rules and regulations typically exclude them. For that reason, Shelley says she is going out of her way to include them and give them an opportunity to sell their products.
Some of the leftover fruits and vegetables from The Village Market go to Brogan's Diner who then provides meals to people who are homeless. Shelley is creative and looks for local nonprofits to distribute leftover food too like the Douglas Park Community School neighbourhood food bank.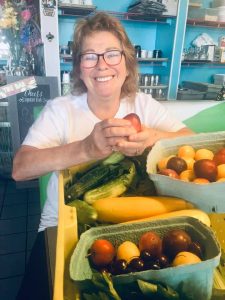 Shelley says that the market has a definite family feel. Her family and many of the vendor's families participate in the market. Once in awhile local politicians show up like Peter Fassbender with his wife and grandson, Councilor Teri James, and Langley City Mayor Val van den Broek. Shelley says she appreciates the support but her favourite part is when her friends from the community show up to support the vendors and the market. She would also like to extend her thanks to folks at Discover Langley and the Downtown Langley Business Association who helped her get the market started and have been there ever since.
Shelley has a Facebook page for The Village Market in Langley City, but likes to promote the market in an old-school fashion. Nicole Longacre-O'Brien from the Langley UPS Store helps provide advertising and Shelley drops off flyers in the community a few days ahead of each event.
As Shelley looks ahead she says she may formalize the market a little bit more. In the meantime, she hasn't set a definitive date for the next market but promises there will be another one this Fall, so stay tuned. If you're interested in getting a table, prices start at a reasonable $30. You can contact Shelly at shelley@shelleyfcoburn.com for more information.
Article Links
Facebook: The Village Market Langley City
Email Shelley: shelley@shelleyfcoburn.com
Market location: 204th and Douglas Crescent in Langley City, BC
The Saucery Fine Foods and Catering
Author: Rod Janz, Managing Editor, FV Lifestyle