Out of curiosity and an ongoing desire to support local business several members of the FV Lifestyle (FVL) team headed out to Festina Lente Estate Winery and Meadery located on 16th Avenue in South Langley for a wine tasting.
The winery is located on a 5-acre hobby farm complete with horses and, of course, beehives. To adapt to COVID restrictions, tastings are served outdoors on the beautiful grounds with tables on the porch and out on the front lawn.
We were not expecting to be served dry wines made from honey, but the selection of wines spanned from dry through to spicy and somewhat sweet. Every bottle of wine at Festina Lente has a witty story to go along with it. If you love pumpkin spiced lattes, you must try the Rustica!
We are proud to offer our premium honey wines made with local honey and fresh farm ingredients. Our wines are sophisticated. Surprisingly dry and food-friendly meads that will delight discriminating eco-conscious wine enthusiasts. Made in small batches, our wines are ever-changing with the seasons. Come by often to take advantage of our limited edition selections. ~ Festina Lente Estate Winery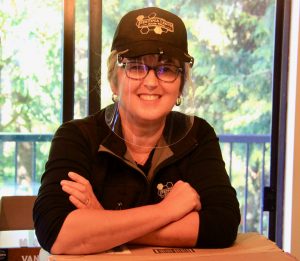 Teresa Townsley
It was a beautiful August Friday afternoon for our visit. Fortunately, Teresa Townsley, the owner, or "Queen Bee" as she lists on her business card, happened to be in the winery and volunteered to do our wine tasting even though it was her day off.
As we got to know Teresa it became obvious that she has a brilliant sense of humor, an entrepreneurial spirit, and a passion for winemaking.
A Successful Year
If you follow FV Lifestyle at all, you know that one of our passions is to support local business owners, so it was great to meet Teresa and hear about the success of the Festina Lente Estate Winery and Meadery. We were pleased to hear that business is going well. Festina Lente Estate Winery is having such a good year that they are having difficulty keeping up with demand.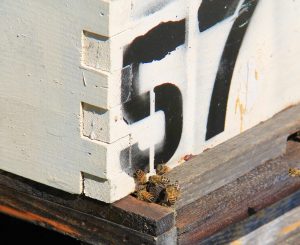 How Mead is Made
Teresa provided the FVL team with great information on how mead is made and its extensive history. We learned that the tradition of making mead goes back centuries and actually predates making wine with grapes. She informed us that the bees that produce their honey are imported from New Zealand and are a little bit more docile compared to other strains of bees. Festina Lente Estate wines are not Okanagan wines like many of the wines sold at the wineries in and around South Langley meaning that Festina Lente Estate wines are made with almost entirely locally grown ingredients.
Teresa is also proud of the fact that Festina Lente Estate wines are made with sustainable environmental practices in mind and actually are environmentally positive.
An Enjoyable Departure
The members of the FV Lifestyle squad are pretty committed and experienced grape wine drinkers, so tasting wines made of honey and fruit, or mead as it is traditionally called, was a little bit of a departure from what we are used to. We all agreed that it was enjoyable to introduce our palettes to a variety of intriguing tastes and fragrances.
Thank You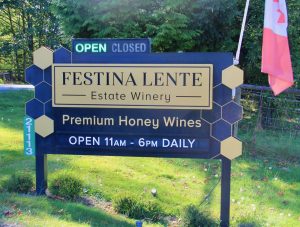 Thank you Teresa for the informative and delightful wine tasting experience!
To visit and get more information on Festina Lente Estate Winery see below.
Festina Lente Estate Winery
Phone: 604-510-2336
Address: 21113 16th Avenue, Langley, BC
Links
Festina Lente Website 
Festina Lente Facebook 
Festina Lente Instagram 
Festina Lente Email