We are noticing Fraser Valley businesses are getting creative so that they can continue to serve their customers during the COVID-19 pandemic. As always, we invite you to continue to shop local!
Twilight Drive-In
One Fraser Valley business that caught our eye is the Twilight Drive-In. They are currently open and showing the movie Trolls World Tour and Dolittle. It sounds like a family night at the Drive-In! The only thing we would advise is to stay in your car if you can. See http://twilightdrivein.net/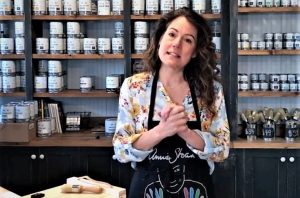 The Passionate Home
Carrie Thachuk, owner of The Passionate Home in Langley City is responding to her customer's requests with a "Show Your Love DIY Heart Project Pack." As you may have seen local residents are displaying hearts in their windows to show support for health care workers and first responders and all those working on the front lines during the pandemic. The packs include a raw wood heart (18″ x 15″), a 4oz. Chalk Paint™ colour of your choice, and a free brush!
Carrie and The Passionate Home are providing safe curbside pick-up for all online orders from 11-3 weekdays and 10-2 on Saturdays. Once you've placed your order they will contact you to arrange pick-up.
Website – The Passionate Home
Instagram – The Passionate Home
Well Seasoned: A Gourmet Food Store
One of our most engaged with Facebook posts so far this month (April 2020) is about Well Seasoned owner Angie Quaale delivering food to the Langley Hospital. Well Seasoned is open 9 to 5 Monday to Friday and 10-4 Saturday and Sunday. On their website, they say they are "well-stocked and doing deliveries." They also have ready-made meals for pick-up and delivery. See https://wellseasoned.ca/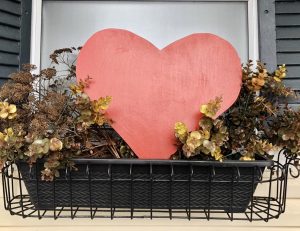 Home-Based Businesses
Home-based business owners are getting creative, and why not? Many home-based businesses were online before the pandemic and set-up for online ordering and delivery.
Abbotsford resident and Epicure representative Becca Toews held and "Epic Quarantine Cooking Class" where she posted videos and recipes on Facebook and Instagram. She said, "With everything going on in the world I'm feeling extra anxious these days. Trying to take care of myself with good food and self-care. Becca listed products that she was adding to her meals to hopefully boost her immune system and keep her and her husband healthy while spending more time than usual at home. See https://www.facebook.com/groups/162588968180880/
Fun and Games
Local businesses like the Abbotsford's Boardwalk Cafe and Games have had to quickly reinvent themselves because of the crisis. Normally a popular place to hang out with friends, play games and have some coffee and snacks, Boardwalk Cafe and Games had to close their doors to drop-in customers because of the pandemic. Owners Darin and Gabby Graham immediately started promoting their online store and selling board games with free delivery to Abbotsford residents. See https://squareup.com/store/boardwalk-cafe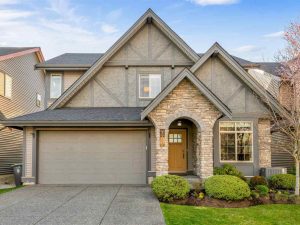 Real Estate
Realtors are having to adjust how they are showing homes and doing business along with other business owners. To see how FV Lifestyle owner Mike Wilson is making adjustments to how he is showing homes see Showing a Home During COVID-19
Safe shopping
For advice on how to shop safely during the COVID-19 shutdown see "How to safely shop for groceries during COVID-19 pandemic" from The Globe and Mail.
Contact Us
If you would like us to give your business a shout out in future articles and social media posts, contact Mike Wilson at mike@fvlifestyle.com.