Fall festivities are quickly approaching, and as the leaves begin to change colour and schedules fill up with activities, the time and energy spent on party planning can be exhausting.  Janik Livera of Fraser Valley Based Blank Canvas Catering has compiled some tips for stress-free entertaining so you can enjoy your time with friends and family!
Plan Ahead
Planning ahead can be extremely invaluable when it comes to hosting a stress-free party. When you prepare in advance you can avoid running around the day of the event for last-minute errands. There are so many ways you can be proactive – many dishes can be prepared a day or two prior to your event, so get started early!
Accept the help from your friends
Don't try and be a hero when it comes to party planning. If your friends offer to help, take them up on it. Consider assigning tasks or menu items to specific people so that you know details are going to be looked after. Tasks, like picking up ice and assigning menu ingredients to guests, can go a long way in relieving unneeded stress.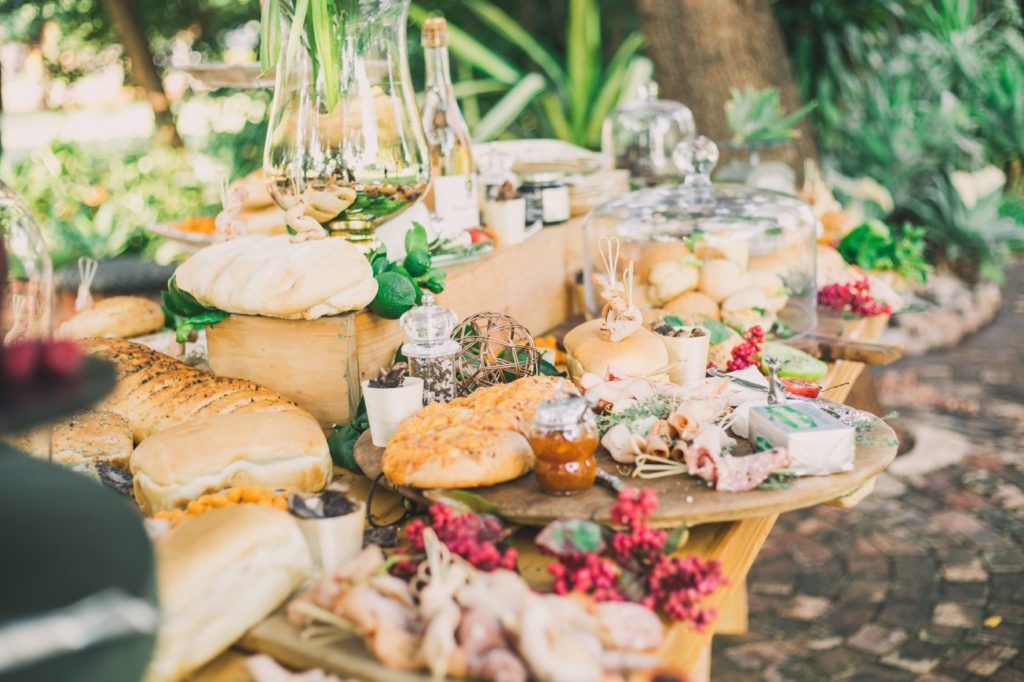 Create DIY Stations
DIY stations for food and drinks will free you up to mingle and enjoy the party with your guests. Don't keep yourself tied up throughout the entire event. Fun and creative DIY stations will allow you to enjoy the party as well and can go a long way in catering to those picky eaters who'd prefer to do things themselves. 
Consider Compostable Serve-Ware
New compostable products are hitting the market every day such as plates, beverage cups, flatware and straws. There are endless options for fun and festive products that can go a long way in enhancing the ambiance while making your life easier and helping the environment too. Many communities in the Fraser Valley have green bins that will help make cleanup a breeze. Bonus points if you compost in your backyard!
Plan Quantities in Advance
A good party is always filled with plenty of food and beverage options. Avoid needing to dash out for extra essentials by planning quantities in advance. We like to have 4-6 bites for a very light reception and 10-12 if you are replacing a meal. Plan one drink per guest per hour for a casual event or double that if you are celebrating.
Armed with these tips and an easy and Instagram-worthy charcuterie recipe below, you'll have no problem getting through this next season of entertaining! 
Instagrammable Charcuterie and Antipasti Boards

This is an assembly only, no cooking, social media-worthy platter that your guests can enjoy at their leisure.
 Visit your local deli counter and gather the following: 
     

A Selection of Cured meats (three kinds)

     

Cheeses; we like to have a hard cheese like Grana Padano, a soft brie, a punchy blue cheese and a spreadable goat cheese.

     

Olives

     

Nuts

     

Dried and fresh Fruit

     

Crackers or baguette 

     

Raw veggies and dips

     

Jam, jelly or honey
 Lay down some parchment paper or butcher paper prior to building your board. This will save you time when it comes to cleaning up.
Start with some small bowls for your olives, nuts, dips and jams. Fill in the spaces with your cured meats, cheeses and veggies. Finish with slices of bread and crackers. You may also choose to garnish this board with fresh herbs and edible flowers. Keep this cool until it is time to serve.