School has been out for a week or two, and I bet you're pulling your hair out listening to the "I'm bored" and "Mom, what can I do?" all day long. It's going to be a long summer unless you can come up with a couple of quick fun projects for the kids to do! 
Crafts are such a wonderful thing for kids. Getting messy, being creative, having fun… and there is no right or wrong way to craft. I love DIY projects that check three boxes: involve the kids, result in a cute finished item, and also take longer than 5 minutes to do.
I've put together a small list of cute DIY projects that you can help your little ones create, or let your bigger littles tackle on their own. They all involve minimal supplies but would be easy enough to get in a pinch from the dollar store! 
Cactus Pet Rocks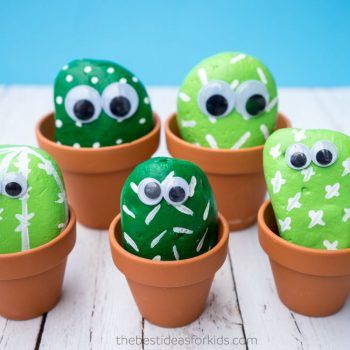 Succulents are still pretty trendy. And as an avid succulent and cactus lover, this fun DIY I came across on Pinterest really peaked my interest! 
Grab a couple of miniature terracotta pots from the dollar store or your local home hardware store, and then take a walk and find some large rocks. Maybe bring along a terracotta pot to ensure the rocks fit! 
Bring the rocks home and dig out some green, white, black and brown acrylic paints, and get to work. Cover the rocks in green paint and then have fun adding some spikes or dots or even flowers to your cactus.
Finally, glue on some googly-eyes and place your rock in the terracotta pot. 
You could use pots of all different sizes and collect some really large rocks to make a cactus garden or display that's really eye catching, or keep them all miniature which is just as cute!
Driftwood wind chimes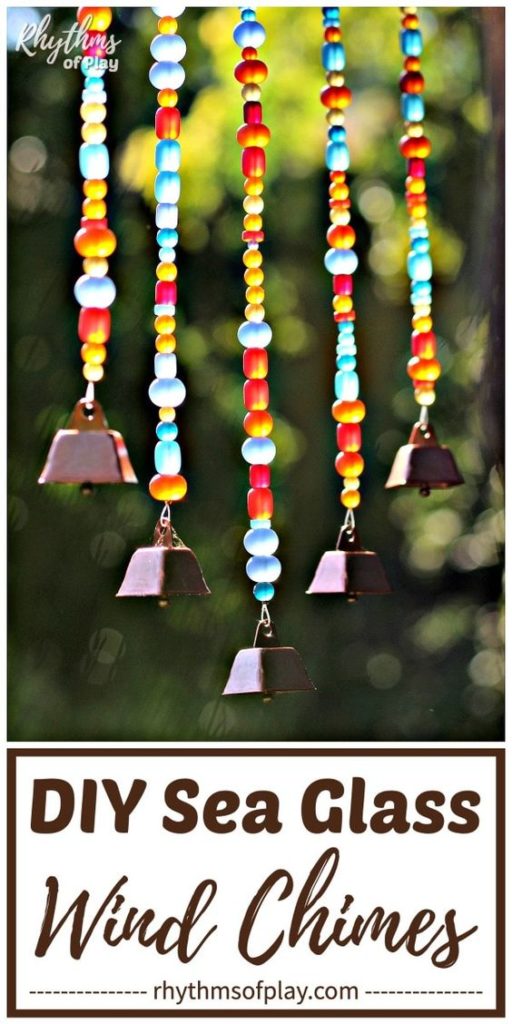 There are a few ways to go about crafting driftwood wind chimes, and that's why I like this activity. First of all, it involves a walk to the beach. Or if there's no beach nearby, you could try a river, a stream, a park, or maybe even just grab a few broken branches next time you walk down the street. 
Like I said, there is no wrong way to craft.
Here is the part where you can get creative. You can use all driftwood and tie the wood together with twine or string; or you could use one large piece of driftwood and string beads along the bottom of it! If you want your wind chime to make noise, you could even find some little bells at a dollar store or craft store, or perhaps string some glass beads close together. 
When you're finished, you can hang them up around your front door, or on your patio, and wait for the next breeze to blow.
Sun Catchers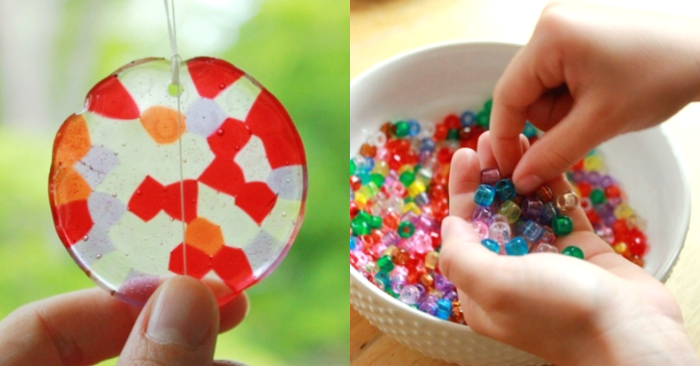 This cute DIY from artfulparent.com is super easy to complete even with a toddler and results in an adorable sun catcher to hang outside or in your window all summer long.
Using translucent pony beads, you arrange the beads in an old muffin pan (or even a cake pan if you want a large sun catcher!). The trick is to use an old muffin/cake pan just because the beads may leave a residue in the pans that you might not want to bake with afterwards. If you don't have a muffin pan you're ready to part with, you can check your local thrift store or even a garage sale would probably get you going. 
If not, ask your neighbour or your mom. I swear my mom has an entire closet of old cake pans.
Once your beads are arranged how you'd like, you need to melt them. This step should be completed outside, since the melting plastic releases odours that are not good to breathe in!
The artfulparent.com recommends using a toaster oven outside or your barbecue! Keep a watchful eye on your melting beads, but it should only take about 10 minutes to melt your beads. Let the pan cool completely before trying to remove the suncatchers.
Once cooled and removed from the pan, you can use a small drillbit to drill a hole through the top to hang your masterpiece! 
Sidewalk Foam Paint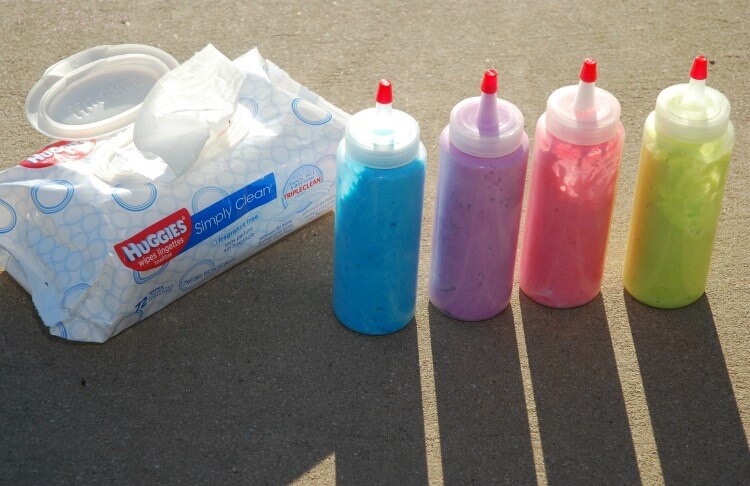 Sometimes sidewalk chalk gets old. Like really old, as in my kids let it sit outside for the past two years because they're not interested in playing with it anymore. 
To switch it up a bit, you can try this really cool foam sidewalk paint – thetiptoefairy.com lays out the supply list and the instructions really easily in her tutorial found here. (https://thetiptoefairy.com/diy-sidewalk-foam-paint/)
The foamy texture keeps things interesting for little ones, and if you use plastic squirt bottles, you can draw detailed pictures really well! It cleans up easily outside with the hose, or you could maybe get a little crazy in the bathtub and just rinse it down the drain.
I honestly think making the paint is probably more fun and more messy than actually drawing with it but it still makes for a fun afternoon project!
Tie Dye Tee Shirts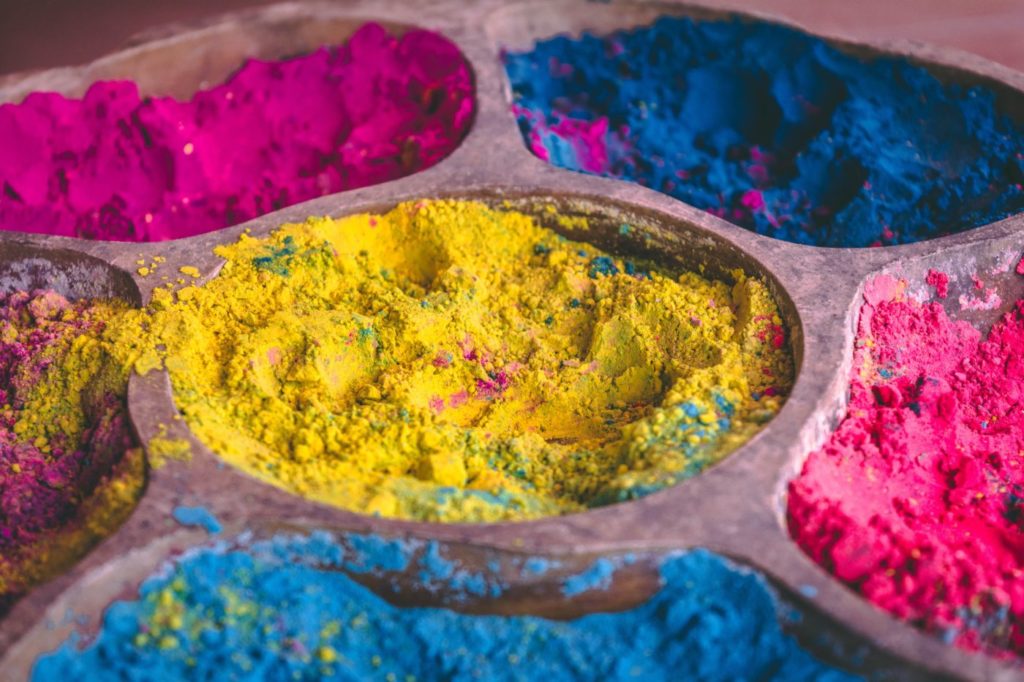 I think every kid needs to experience tie dying something at some point in their childhood. It's like a right of passage or something. I know tie-dye isn't quite as popular as it used to be, but it's still so fun to do. And you don't have to tie-dye tee-shirts; you can do socks or towels or tote bags! 
Now you can buy tie-dye kits, or you can even use Sharpie pens. There are instructions all over the internet for different ways to tackle a tie-dying adventure, so no matter how little your littlest is; or how old your biggest little is, tie-dying can be a super fun outdoor summertime DIY activity.